Merano Wine Festival, the Broadway of wine.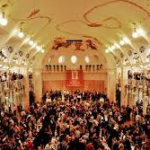 Merano is located near Bolzano and from 9 to 13 November the Merano Wine Festival will take place one of the most elegant moments in the national and international wine scene. An appointment with wine and producers of excellence as being part of the producers exhibiting at Merano is like having an actor on Broadway. You join the group after careful and scrupulous selections. An appointment for everyone yes, but above all a moment to understand, taste and bring together wine lovers, commentators, wine professionals, bloggers and consumers. Merano WineFestival is a benchmark of food and wine excellence and takes place in the splendid Salone del Kurhaus, the historic Art Nouveau building in the center of the South Tyrolean town.
The presence of companies in the wine sector has reached 450, in addition to 200 artisans of taste and about fifteen international chefs. The wine cellars of the Wine Italy selection have been joined in the Wine International section by producers from Argentina, Austria, France, Germany, Romania, Slovenia, Spain and Switzerland, who have contributed to broadening the horizon for wine making with often interesting proposals.
The worldwide visibility and notoriety of the Merano Wine Festival is a quality brand. 
To celebrate the 27th edition, will be five days full of emotions, content, ideas to discover: over 450 wine houses, among the best in Italy and in the world, almost 200 artisans of taste, 15 leading chefs. The expression of the best that our country has to offer, selected among the Wine Hunter Award.
The new this year will be The Circle, a program of entertainment initiatives in Piazza della Rena dedicated to the stories of men, food, wine and territories. In short, food and wine tout-court.
You can participate in the Masterclasses where you can taste excellences with guided tastings the purpose is to create the culture and the knowledge of drinking well.
You can not miss the section dedicated to organic, biodynamic, natural, "orange" and PIWI wines (vines resistant to diseases), will have a dedicated space on the opening day.
In conclusion, to celebrate the closure of the Merano WineFestival 2018 will be a borderless emotion: "Catwalk Champagne", the parade of well over 250 champagne of 80 French companies among the most famous.
All this is the 27th Merano WineFestival: unique, exclusive, exciting
Here are some useful addresses:
The web site: http://www.meranowinefestival.com/
how to reach: http://www.meranowinefestival.com/come-raggiunger