Food is a serious matter and Carlo Petrini knew its importance when in 1986 he established the Slow Food movement. Its purpose was not only making people to enjoy eating and drinking, but to sustain local food and traditional cooking. Excited about taking part to this event and showing my support to local small business, I headed to the Slow Wine 2020 event, which took place in Munich, at the beginning of February. The location chosen for the event was the wine cellar of Eataly. The tables of the wine makers blended perfectly with the  loaded shelfs of the wine cellar, creating a beautiful and suggestive  atmosphere.
A special thanks for the success of the event goes to Faye Cardwell, a well known figure, in Munich, in the wine industry and in the communication of it. She did a great job bringing for the occasion almost 60 Italian producers and 4 important wine consortiums.
Since the name says: "Slow Wine" I decided to take it SLOWLY and fully enjoy the event.
I started with one of the Taste and Talks tasting. 5 indigenous wines from Italy has been chosen for us to taste the expression of a grape and its terroir. Italy is  one of the wine producing nations  with the largest number of indigenous grape varieties. One of Slow Wine proposal is to enhance and make known these beautiful and rare grapes.
The first bottle was a Forli Bianco IGT, Villa Venti 'Serenaro' 2018 obtained from the grape Famoso di Cesena. Despite the name that it has borne for centuries, it is still an unknown grape that had almost disappeared. The wine was aromatic with orange peel, high in acidity and very dry. A great young wine.
The second bottle brought me near Alessandria, in Piedmont, with the Colli Tortonesi Timorasso DOC Derthona, Borgogno & Figli, 2018. The Timorasso is a grape difficult to grow, which was almost extincted, and was saved by a single producer in the '80. Its results is white wine with great structure and long lasting aromatic notes. It is a little bit young, but with a lot of potential. This was also confirmed by Conrad Matters, a wine enthusiast, who felt in love with this grape and who is currently on a personal mission to introduce it to the German market. In order to achieve international recognition a consortium has been recently created to promoto and make known the timorasso internationally.
The third bottle was a Grignolino d'Asti Doc 2018, Luigi Spertino, which is also a grape from Piedmont. This grape produce a wine which is extremely light in colour (almost rosé). The fermentation of the grape is kept short because the grape has a lot of seeds that could interfere with the final quality of the product. The result is a summer wine which is more pronounced than a rosé and fills the mouth with a fresh structure.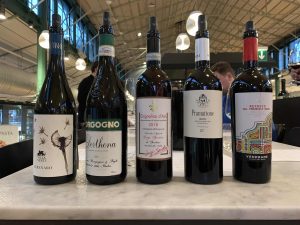 The fourth bottle was a Provincia di Pavia IGT Croatina "Pramattone" 2017, Bisi, a rustical grape from Lombardia. It produces wines with colour and body. The bottle I tasted was really powerful in the nose, with red wild fruits, and some hint of spices. A perfect wine with raw ham.
The final bottle was a Friuli Grave DOC Refosco dal Peduncolo Rosso 2017, Vendrame, from the north east Italy. The Refosco dal Peduncolo Rosso is actually not a single variety but a family of grapes cultivated across the Italian and Slovenian border. The grape, also mentioned by Plinius, is an ancient, rustical one, which produces a edgy, herbal  wine. The one that I tasted was a perfect example of the grape, not huge in the nose, but great taste where some sweetness, herbal notes and an hint of final bitterness merge on a stage of red berries.
Happy with this introduction of some italian indigenous grapes, I am now ready to go deeper with the tasting of these gems from Italy.
I stepped by the table of Bosio, a biological certified producer from Franciacorta, who married his love for the land with technological innovation. The Franciacorta Pas Dose' Girolamo Bosio 2011 is a well balanced pink Franciacorta with yeasts notes and soft fruits. A pleasure in the mouth.
The table of the Consorzio Tutela Lugana DOC has come to my attention. On a
single table there was an incredible number of different bottles of Lugana from many producers. Here in Germany Lugana usually is associated with the popular name of "Ca Dei Frati" with its million of bottles produced. Having the possibility to try the same grape from other producers was therefore a must. What is common to these wine is the freshness, but all the different interpretations of this grape have their own characteristic that represent each wine maker. 
I was also intrigued by the wines of the Officina del Sole a young estate producing wine, olive oil and providing hospitality. The producer  has developed an all around concept based on its offerings. The wine reflects the harmony between the local grape varieties with the international grapes. I liked in particular the Falerio Pecorino Franco Franco, Officina del Sole, 2016, a late grape harvest which provides a deep and rich long lasting citrus and yellow fruits taste, also thanks to his passage in oak barrels.
And last but not least,  Sauvignon. Few meters apart from each other there were 3 important producers from Collio, north east of Italy, with their top rated sauvignons. Venica & Venica with his Sauvignon Collio Friulano Ronco delle Mele 2018, Muzic with his Collio Sauvignon Pajze 2018 and finally Marjan Simčič with his Brad Sauvigno Blanc Opoka Jordan Cru 2017. All of them were great sauvignons with an incredible nose. Muzic had a more pronounced final herbal note; Venica & Venica had a more subtle sweetness, and Marjan Simčič had a great and opulent minerality. Which one was the best? I will not provide an answer since in my opinion, each of them,  would have its moment of perfection on my table.