Since 1992 The Merano WineFestival is considered as one of the annualy most important events representing the excellences of wine and food. In the fantastic ambience of the Kurhaus of Merano, the festival unites excellence with elegance. The exclusively presented wines and products are specifically selected and evaluated by the tasting commissions of The WineHunter.
Helmuth Kocher, founder of The WineHunter Award and the Merano WineFestival, dedicates himself to hunting excellences of the world of wine and food. Merano is an explosion of genuine and high quality flavors. The excellences from all over Italy and not only. The Festival is a meeting point for food and drink lovers. There where 11.500 the people arrived  But you have to be very passionate because the ticket is very expensive. Being high quality products, it is difficult to make a selective choice. I focused on the small realities to look for and find on the palate. But I tell you immediately what were the discoveries of this year. I could stay here and talk for hours. So this time considering that I spent a lot of time both tasting the wines and the food I will alternate between food and wine. The Antonucci winery "Santa Barbara" is already known not only for the exuberant patron Antonucci but also for a Verdicchio that has no equal in the brands. I already knew Verdicchio, so I focused on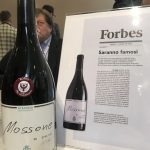 Mossone a Merlot that gives softness and enveloping, lots of freshness and very delicate tannin. At first I thought it was a label with "Il Padrino" but the pictures on the label is Nino Zeni, the creator of an Amarone rich of expression and passion. It comes from the best grapes and when you cap it you will feel the full power of a wine that will leave you relentlessly and always prepare you for the other sip. It is a wine for lovers for people who love eachother and love Amarone. Another Amarone that I will not forget is the scream, an eclectic, soft, powerful taste. The Hurlo is produced, in a limited edition, only in the most suitable vintages. Every single bottle is numbered and accompanied by a certificate of authenticity. The problem is that it makes it an unapproachable wine. Much marketing for me that can be found in other Amarones. I personally, and all my friends know it, I don't really appreciate the Brut Franciacorta wine. But it's my problem I don't deny it, I haven't found a wine yet that makes me say "uaho". Then I go to my beloved Champagne. A Vrigny, Roger Coulon create a champagne with fine bubble and a thirst-quenching minerality, hints of powder, chalk, ripe plum and pastry. I would say excellent. I could go on describing the wines that I liked the most but I would end up telling you tomorrow. I dont't like lists but I can't tell you about all the wine that I have tasted. So, I pull out ten wines from my "wine-hat" that I liked a lot with a brief description:
Brunello di Montalcino – Donatella Cinelli Colombini: An  elegant Brunello, strawberries, raspberries, cherries, wood and tobacco. Very balanced. Pairing with a very aged cheese.
Amarone della Valpolicella Classico Riserva – Zeni: An Amarone that will seduce 'with cherry and balsamic notes, with velvety power and tannins.
Stilèma Fiano di Avellino – Mastroberardino : a delicate and fine Fiano, an excellent white wine to sip during the summer. Acidity that goes well with hints of honey and rosemary.
Bovale Marmilla IGT – Su'Entu: have you ever drunk a wine from Bovale grapes? The moment has come! Ruby wine that I like for freshness and balsamic notes. It is a wine that gives notes of salt and soft tannins.
Ronco delle Acacie 100% Chardonnay Le vigne di Zamo': the Zamo vineyards come from a region named Friuli and in Italy  their Ribolla Gialla, Sauvignon and Friulani wines are legend. Ronco delle Acacie after two years of refinement became a sublime Chardonnay. Very present minerality, sulfur, flint and acacia honey.